Why SHIVGAS Is Considered The Best Gas Agency In Eastern India?
LPG better known as liquefied petroleum gas is a ubiquitous fuel in the residential, commercial, and industrial sectors in India. The use of LPG is inevitable and this is why trusting a reputed LPG gas agency saves the hassle of running errands for trivial issues.
LPG is a cost-effective and environment-friendly fuel. The high calorific value and low pollutant emission make it the fuel for the future. In the journey of unadulterated, cost-efficient fuel SHIVGAS is a gas agency that plays a major role in providing the finest quality LPG gas imported from leading oil refineries in India.
Let's Understand how SHIVGAS has Become a Cardinal Gas Agency in Eastern India
One-Stop Solution
SHIVGAS is the one-stop gas agency for every kind of gas requirement. Starting from the commercial cylinder of 17 and 21 KG, industrial cylinder 33Kg (both VOT and LOT), and domestic cylinders of 12kg, all are available in one place. Apart from that, we are recently introducing a 425Kg LPG cylinder curated specifically for industries and we provide cylinders in bulk so there is no loss in productivity in industries due to the unavailability of LPG gas.
Customer Service
SHIVGAS has excellent customer service for existing and new consumers. You can reach out to customer service regarding problems like leakage of an LPG cylinder, changing address, a phone number, or even for an LPG gas dealership. They will assist you in thorough form and provide you guidance as per se. In a dire situation like leakage or damage in an LPG cylinder, they will send a professional to help and provide a solution.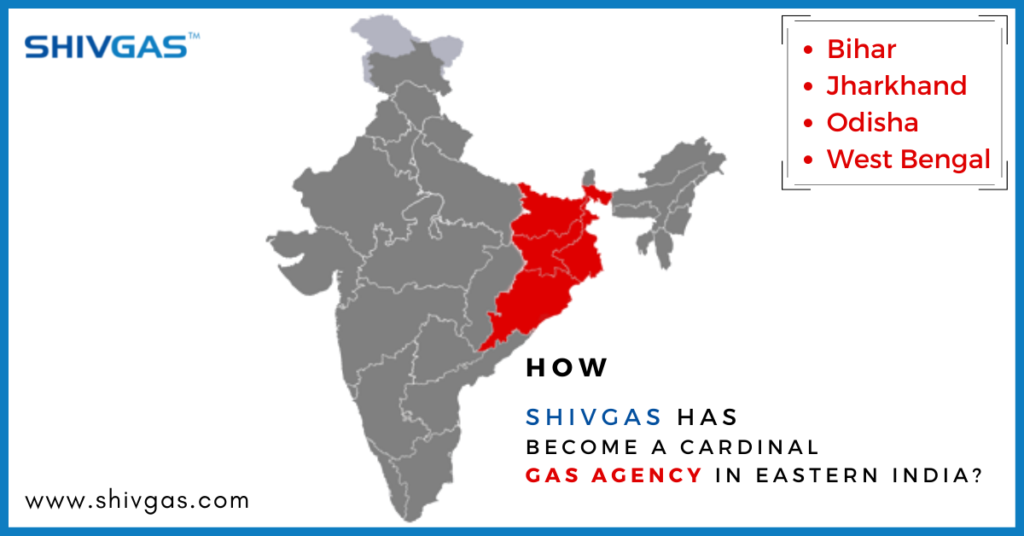 Quality at Right Cost
SHIVGAS is a prominent gas agency in India and is known for its quality. SHIVGAS acquires straight-run LPG which does not contain heavy hydrocarbons and other containment. The unadulterated LPG cylinder ensures high flammability. The LPG cylinders are devoid of hydrocarbon ensuring clean combustion and no residue in the stove or pipelines.
Safety Training
SHIVGAS lays strong emphasis on the need for safety training. It persuades the consumers to engage in safety practices like switching off the knob, checking the appliances to which it is connected, and keeping the cylinder in a dry area.
Our staff also provides proper safety training to new and existing gas agency dealers. It helps in putting off the risk of unprecedented accidents.
On-Time Delivery
SHIVGAS understands India runs on LPG and late deliveries can cost the consumer lower productivity. SHIVGAS guarantees a streamlined supply of LPG in homes, industries, and hotels/restaurants. It has access to several filling units and terminals for the bottling up of cylinders. A specialized fleet of delivery tankers and vehicles with a well-structured network of drivers ensures the cylinder reaches every consumer on time.
In eastern India, some of the places are difficult to connect this is why SHIVGAS is increasing the number of gas agency dealerships to enhance the cylinder delivery network even to the remotest corner of any state or district.
Customer Centricity is the USP of SHIVGAS
After the new connection and installation of the cylinder, our robust team of managers manages the customer relationship by keeping a check on their supply and addressing the difficulties.

Our customer service provides technical support and engages with every consumer regarding any problem 24x7.

We also have chatbots from which you can connect online and clear the queries.

Our staff is committed to the safety of consumer this is why safety training, mock exercises, safety interlocks, and SMS warning is provided to consumers.
Conclusion
SHIVGAS is one of the leading names in the LPG gas industry the reason is their expertise and experience. SHIVGAS has over 30 years of experience in the oil and gas industry and it is creating a better LPG gas agency eco-system by providing after-sales support. Get in touch with our experts, and contact us for any queries regarding LPG gas cylinders.
---
 Read  More:
---